Date Sweetened Chocolate Cake (VEGAN)
I've done it before and I'm doing it again. Date-sweetened cake that is so delicious you won't even realize it's so dang healthy until you've licked the plate.
I love making cookies and cakes that are indulgent and delish, but I especially love it when I can make them free of refined sugars and flours. Sweetening desserts with dates or maple syrup is one of my favorite ways to keep a dessert on the healthy side – and, to be honest, they taste even better. Dates often make a cookie or cake super moist and sweet, without the need for additional sugar or oil. It's kinda crazy how a dried fruit can become the base for an entire dessert recipe, but it's the truth!
And believe me – this cake is everything you need and more.
I folded in dark chocolate into the batter for some extra flavor, and topped the entire cake with my avocado chocolate mousse and extra chocolate for good measure. This cake is super easy, and any cake that is acceptable to eat for breakfast is a winner in my book.
CAKE INGREDIENTS:
1 cup deglet noor dates
1 1/4 cup water
1 Tbsp baking powder
1/2 tsp salt
1/3 cup cacao powder
1 cup all purpose or spelt flour
1/2 bar dark chocolate – chopped
FROSTING INGREDIENTS:
1 ripe avocado
1/4 cup plant milk
2-3 Tbsp maple syrup
2 Tbsp cacao powder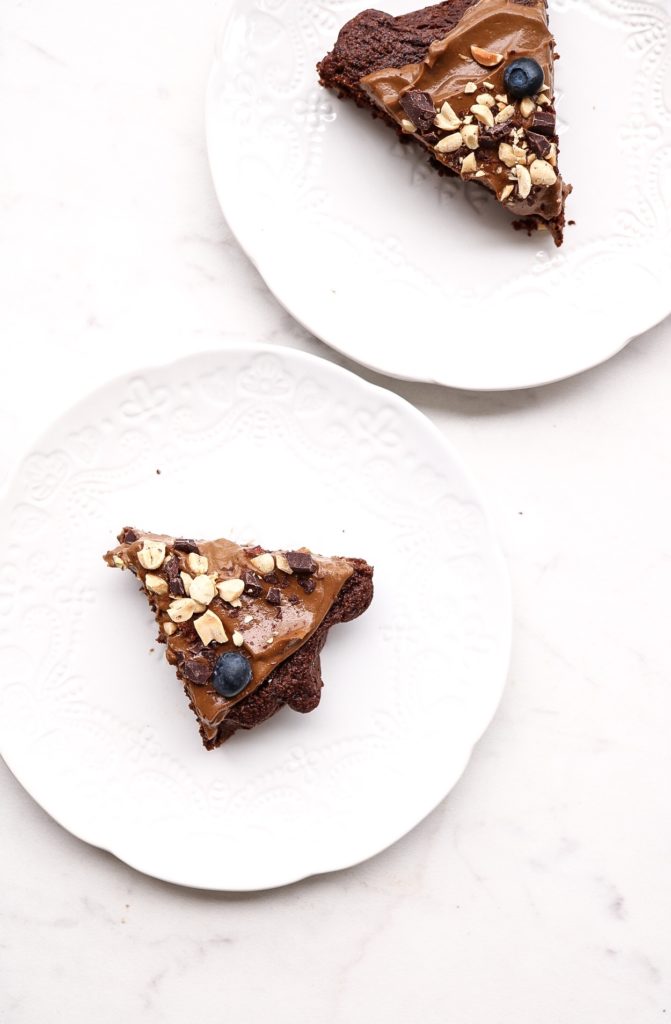 INSTRUCTIONS:
Preheat your oven to 350F. Line a cake pan with parchment paper and set aside. In a food processor, blend together the dates and water. Add in the remaining cake ingredients, except for the chopped chocolate, and pour the batter into the cake pan. Bake the cake for about 30 minutes, or until a toothpick comes out clean with you poke it. While the cake is cooling, blend together the frosting ingredients in a food processor until smooth.
Fold in your chopped chocolate into the batter!
Pop your cake batter into the oven!
Once your cake has cooled, top it with your avocado chocolate mousse!
Now add some more toppings – I topped mine with more chopped chocolate, fresh blueberries, and chopped peanuts.
Recipe by Chef: Michelle