Today calls for another one of my former guilty pleasures: Twix bars.  But these homemade twix bars are made The Organic Dietitian way.  I was able to do it with only five real food ingredients.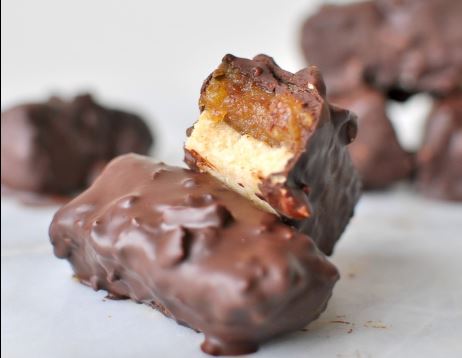 I experience a lot of joy recreating highly-processed foods with real foods.  For these homemade Twix bars the biggest challenge was creating a shortbread cookie for the base.  I wanted to make one that was vegan, gluten free, and grain free so everyone can enjoy them.  Enter: coconut flour. Coconut flour has been one of my favorite flours to work with lately.  Not only is it acceptable for many lifestyles, but it is a nutritional powerhouse in the flour world.  Coconut flour is full of fiber, protein, and healthy fats.  I love it!
The caramel element was a no-brainer for me.  When I think of caramel my thoughts go straight to dates.  The flavor of dates reminds me a lot of caramel packaged as natures perfect little fruit.  I can get down with one-ingredient caramel.
If you wanted to, you could even use candy molds to create your candy bars, but when I make something homemade, I want them to look homemade.  You can see the love that way. (But those candy molds are pretty cool, right?)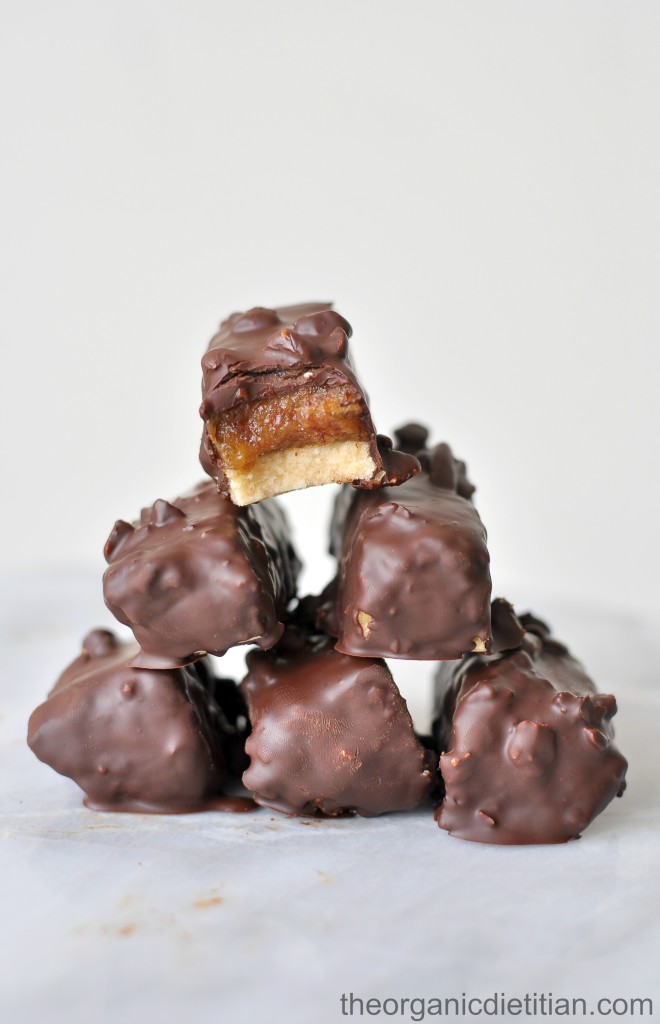 Ingredients
Shortbread Cookie
– 1 cup coconut flour
– 1/2 cup coconut oil
– 1/4 cup raw honey or pure maple syrup
Caramel
– 20-24 large soft dates, seed removed
Chocolate
– 9 ounces chocolate chips, melted
**NOTE: Due to feedback, recipe amounts were updated on 10/26/2017
Instructions
Preheat oven to 350 degrees.
In a small bowl mix together the shortbread cookie ingredients to form a dough (it will look like wet sand).
Press the dough into an 8×4 rectangle on a lined baking sheet. Dough should be about 1/2 inch thick.
Bake in the oven for 10-15 minutes until edges are golden brown. Let cool for 5 minutes. Put in the refrigerator to help set the crust.
For the caramel, add the dates to a food processor and process until a paste is formed, scraping down the sides as needed.
Spread the date caramel evenly over the cooled shortbread cookie with an offset spatula and store in the freezer for about 30 minutes.
Cut into 12 bars and coat with melted chocolate (I melted mine in a bowl over a pot of boiling water).
To coat with chocolate, place the individual bar into a fork. Hold the fork over the chocolate bowl. Use a spoon to drizzle the chocolate over the top and gently tap the fork on the edge of the chocolate bowl to remove excess chocolate.
Allow to set on a lined baking sheet in the fridge for about 30 minutes.
Store in an airtight container for up to one week.