You won't believe that these moist and rich Date Brownies are sweetened only with dates and a bit of honey!
Dates are a miraculous fruit. They are an excellent source of:
energy
fiber
essential minerals such as calcium, iron, phosphorus, sodium, potassium, magnesium and zinc
vitamins such as thiamin, riboflavin, niacin, folate, vitamin's A and K
The nut butter in these brownies also makes them a good source of protein.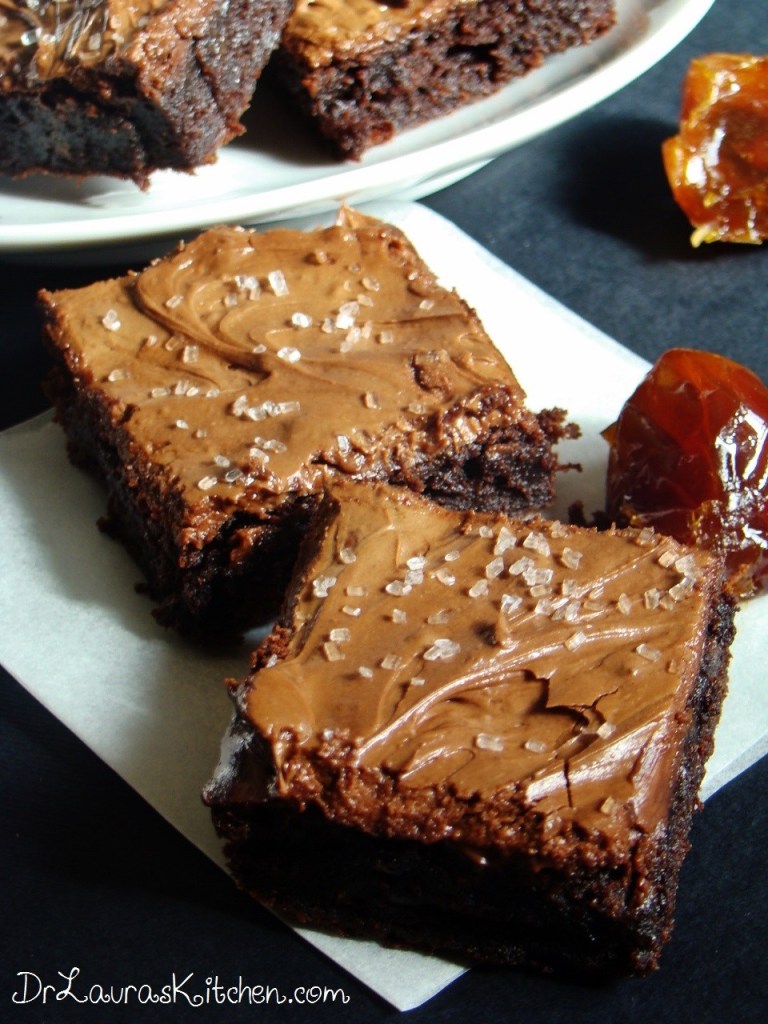 INGREDIENTS
For the Brownies:
1 cup dates pitted
hot water to cover
1/2 cup nut or seed butter such as almond butter, peanut butter, tahini, or sunflower seed butter
1/3 cup cocoa powder unsweetened
1/2 teaspoon baking powder
3 tablespoons honey
1 teaspoon pure vanilla
1/2 teaspoon sea salt
For the Chocolate Ganache (optional):
1/3 cup butter or ghee
1/3 cup chocolate chips
INSTRUCTIONS
Brownies
Preheat your oven to 350°F (175°C).
Soak the dates in the hot water for about 10 minutes to soften. Drain the water.
Put all ingredients in a blender or food processor and blend until smooth. Add a little water if needed.
Spread the mixture in a buttered square pan (8×8-inch). Bake for about 20 minutes, until set. Allow to cool before frosting with the Ganache.
Chocolate Ganache
Melt the butter in a bowl and add the chocolate chips. Stir until the chocolate chips are melted.
Put the mixture in the freezer for about 20 minutes until set (but not completely frozen).
Beat the mixture with an electric mixer. It will become light brown and smooth. Spread over the brownies and slice into squares.
Recipe by Chef: Dr. Laura