These sugar-free Raw Caramel Slices are so rich and delicious, you won't believe they are good for you! I've served them at many gatherings and I always get asked for the recipe. So here ya go!
THESE FABULOUS RAW DATES CARAMEL SLICES:
are naturally sweetened with dates and just a touch of honey.
are gluten and grain free.
contain cashews, which are packed with vitamins, minerals and antioxidants. These include vitamins E, K, and B6, along with minerals like copper, biotin, iron, magnesium, zinc and selenium.
also contain tahini (ground sesame seeds). Tahini is a high-protein food packed with B vitamins and minerals.
There a 3 easy layers to these slices- a cashew and date base, a luxurious caramel layer, and a rich chocolate topping.
And beware: DO NOT taste the caramel layer while making these slices, or you may end up eating the whole thing! Yes, it is that amazing. The slight bitterness of the tahini complements the sweetness of the dates just perfectly.
These slices are best served cold, so I leave them in the freezer and bring them out just before serving.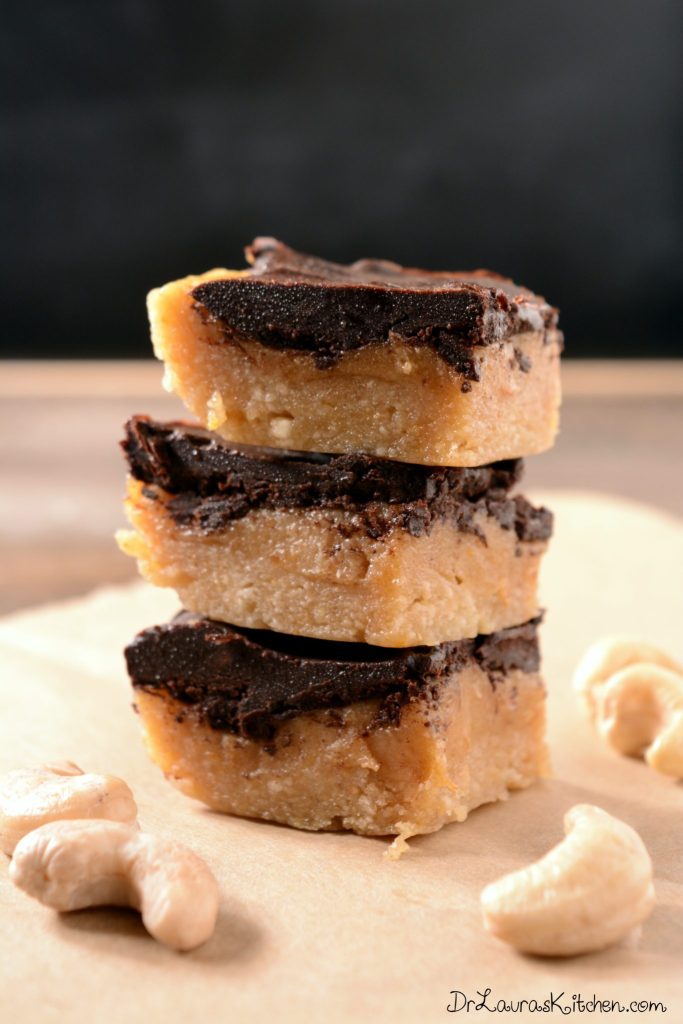 INGREDIENTS:
The Base
The Caramel Layer
1 1/2 cups soft dates, pitted
1/2 cup tahini
2 tablespoons butter, melted
1 teaspoon vanilla
1/4 teaspoon sea salt
The Chocolate Layer
1/2 cup cocoa powder
1/2 cup butter, melted
2 tablespoons honey or pure maple syrup
INSTRUCTIONS:
For the Base Layer:
Combine the raw cashews and dates in a food processor. Blend until the dough sticks together. Add a bit of water if the mixture is too dry.
Line a glass baking dish with parchment paper. Press the base mixture evenly into the dish.
For the Caramel Layer:
In the same food processor container (no need to wash), blend all caramel ingredients until smooth. Once again, add a bit of water if the mixture is too dry.
Press the caramel mixture on top of the base and put in the freezer for at least 10 minutes.
For the Chocolate Layer:
In a bowl, combine all ingredients for the chocolate layer and stir until smooth. Spread over the caramel layer and freeze for at least an hour, until firm.
Slice into squares and serve. These bars are very rich, so I usually slice into small squares. Store the remaining bars in the freezer. Enjoy!
Recipe by Chef: Dr. Laura